Pradhan Mantri Sangrahalaya: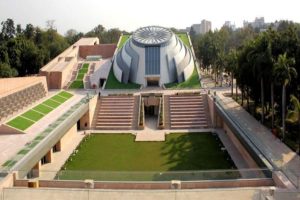 The Pradhanmantri Sangrahalaya was inaugurated by Prime Minister Narendra Modi in New Delhi. The contribution of India's prime ministers will be showcased in the Pradhanmantri Sangrahalaya.
The first person to buy a ticket to the museum was PM Modi.
The museum has been inaugurated on Ambedkar Jayanti.
The tickets have been priced at Rs 100 if it is bought online, and Rs 110 if bought in the offline mode. For foreigners, the ticket has been priced at Rs 750.
The children who will be visiting the museum aged between 5 to 12 years will be given a 50 per cent discount per ticket.
The school and college students will receive a 25 per cent discount if the bookings are made by the colleges and the schools
The sangrahalaya is being built adjacent to the Nehru Memorial Museum Library in Teen Murti Bhavan on a 10,000-square metre piece of land.
The museum will be housing exhibits related to the former prime ministers of the country.
The museum will have 43 galleries.
The design of the museum has incorporated energy conservation practices that are sustainable. To build this museum no trees have been transplanted or felled.
The logo of this museum represents the hands of the Indian people holding the Dharma Chakra which symbolizes democracy and the nation.
All the information for the museum has been collected with the help of the institutions like Doordarshan, Prasar Bharati, Sansad TV, Films Division, Media Houses (Indian and foreign), and Ministry of Defence, Foreign News Agencies, etc.