World's Largest Producer And Consumer Of Sugar: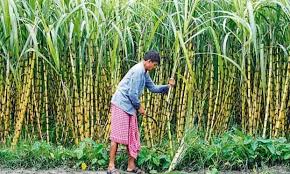 India emerges as the world's largest producer and consumer of sugar and world's 2nd largest exporter of sugar.
In Sugar Season (Oct-Sep) 2021-22, a record of more than 5000 Lakh Metric Tons (LMT) sugarcane was produced in the country. Out of this, 35 LMT sugar was diverted to ethanol production and 359 LMT sugar was produced by sugar mills.
Ethanol production capacity of molasses/sugar-based distilleries has increased to 605 crore litres per annum and the progress is still continuing to meet targets of 20% blending by 2025 under Ethanol Blending with Petrol (EBP) Programme.
The EBP programme was launched by the Ministry of Petroleum and Natural Gas in 2003, to promote the use of alternative and environment friendly fuels.
The Government has 10% blending target for mixing ethanol with petrol by 2022 & 20% blending target by 2030. However, considering the encouraging performance, due to various interventions made by the Government since 2014, the target of 20% ethanol blending was advanced from 2030 to 2025-26.
Ethanol is an agro-based product, produced from sugarcane, maize, wheat, etc which are having high starch content. In India, ethanol is mainly produced from sugarcane molasses by fermentation process
Ethanol can be mixed with gasoline to form different blends. As the ethanol molecule contains oxygen, it allows the engine to more completely combust the fuel, resulting in fewer emissions and thereby reducing the occurrence of environmental pollution.
Since ethanol is produced from plants that harness the power of the sun, ethanol is also considered as renewable fuel.