Parker Solar Probe: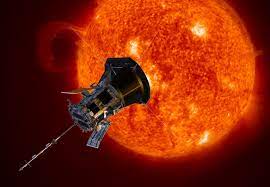 During a brief swing by Venus, NASA's Parker Solar Probe detected a natural radio signal that revealed the spacecraft had flown through the planet's upper atmosphere. This was the first direct measurement of the Venusian atmosphere in nearly 30 years.
Findings:
Like Earth, Venus sports an electrically charged layer of gas at the upper edge of its atmosphere, called the ionosphere. This sea of charged gases, or plasma, naturally emits radio waves.
This discovery confirms that Venus' upper atmosphere undergoes puzzling changes over a solar cycle, the Sun's 11-year activity cycle.
This marks the latest clue to untangling how and why Venus and Earth are so different.
Born of similar processes, Earth and Venus are twins: both rocky, and of similar size and structure. But their paths diverged from birth. Venus lacks a magnetic field, and its surface broils at temperatures hot enough to melt lead.
About the mission:
NASA's historic Parker Solar Probe mission will revolutionize our understanding of the sun, where changing conditions can propagate out into the solar system, affecting Earth and other worlds.
Parker Solar Probe will travel through the sun's atmosphere, closer to the surface than any spacecraft before it, facing brutal heat and radiation conditions — and ultimately providing humanity with the closest-ever observations of a star.
Journey: In order to unlock the mysteries of the sun's atmosphere, Parker Solar Probe will use Venus's gravity during seven flybys over nearly seven years to gradually bring its orbit closer to the sun.
The spacecraft will fly through the sun's atmosphere as close as 3.9 million miles to our star's surface, well within the orbit of Mercury and more than seven times closer than any spacecraft has come before.