Armoured Recovery Vehicles: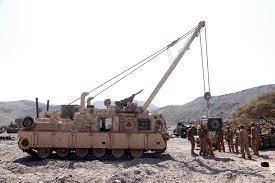 The Indian Army recently began the process to procure 170 Armoured Recovery Vehicles (ARVs) to enhance its operational capabilities.
Armoured Recovery Vehicles are specialised military vehicles designed to recover and maintain armoured vehicles on the battlefield.
These vehicles are crucial for keeping armoured units operational by recovering damaged or disabled tanks and other armoured vehicles, performing field repairs, and evacuating casualties.
They are normally built on the chassis of a main battle tank (MBT), but some are also constructed on the basis of other armoured fighting vehicles, mostly armoured personnel carriers (APCs).