Marine Protected Areas: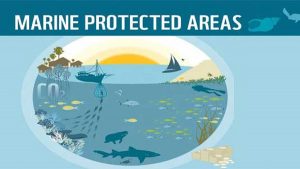 The Union minister of state for science and technology and earth sciences recently said that India will continue to support setting up two Marine Protected Areas (MPA) in Antarctica to protect marine life and its ecosystem services.
MPAs are areas of the ocean set aside for long-term conservation aims.
They support climate change adaptation and mitigation while providing other ecosystem services.
The specific purposes, legal authority, level of protection, management approaches, and use allowance of individual marine protected areas (MPAs) can vary greatly from site to site
Many MPAs allow people to use the area in ways that do not damage the environment. Some ban fishing. A few do not allow people to enter the area at all.
MPAs currently cover about 6.35% of the ocean. However, only just over 1.89% of that area is covered by exclusively no-take MPAs that do not allow any fishing, mining, drilling, or other extractive activities.
United Nations High Seas Treaty:
It is the first-ever treaty to protect the world's oceans that lie outside national boundaries.
It is also known as the 'Paris Agreement for the Ocean.'
It is a legally binding treaty to protect marine life in international waters.