Asia's Largest Compressed Bio Gas plant: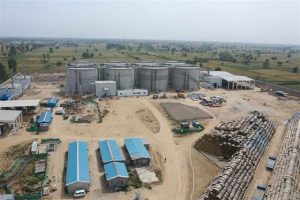 Union Minister of Petroleum and Natural Gas Hardeep Singh Puri recently inaugurated Asia's largest Compressed Bio Gas (CBG) plant in Lehragaga, Punjab.
The compressed Bio Gas (CBG) plant in Lehragaga was constructed at the cost of Rs.230 crore over 20 acres of land.
The project was commissioned with a foreign direct investment (FDI) of Verbio AG – one of the leading bio-energy companies in Germany.
The CBG plant is currently capable of processing 6 tonnes of paddy straw each day.
This capacity will later be expanded to 300 tonnes of paddy straw per day to produce 33 TPD of compressed biogas using eight digesters of 10,000 cubic meters.
It will address the issue of stubble burning in the state.
The CBG plant will consume 100,000 tonnes of paddy straw, which will be procured from 6 to 8 satellite locations within a 10 km radius of the plant.
It will produce 600-650 Tons of FOM (fermented organic manure) each day. The manure will be used for organic farming.
The new CBG plant is a step towards achieving the goals of the Sustainable Alternative Towards Affordable Transportation (SATAT) scheme.
SATAT scheme : The Indian Government launched the SATAT scheme in 2018 to set up the CBG production plants across the country by inviting expressions of interest through potential investors. The CBG will be used for the automotive sector.