Attaukal Ponkala Festival : Kerala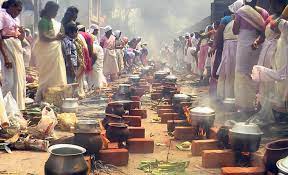 All arrangements are in place for the Attaukal Ponkala festival, considered one of the world's largest religious gathering of women.
Attukal Ponkala is a 10-day long festival celebrated annually at Attukal Bhagavathy Temple in Trivandrum, Kerala.
This festival is dedicated to Attukal Bhagavathy, also known as Goddess Kannaki or Bhadrakali.
It is celebrated every year and falls in the month of February or March.
Pongala, which means 'to boil over', is the ritual in which women prepare sweet payasam (a pudding made from rice, jaggery, coconut and plantains cooked together) and offer it to the Goddess or 'Bhagavathy'.
This ritual is performed on the 9th day.
It is one of the largest congregation of women for a festival in the world.
During the 10-days festivities, a sacrificial offering known as Kuruthitharpanam is also included in the religious event.