National Technology Day 2022 : Theme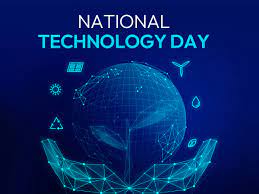 Since 1999, May 11 is celebrated as National Technology Day to mark India's technological advancements.
The theme of Year 2022 is: "Integrated Approach in Science and Technology for a Sustainable Future".
Significance of the day:
On May 11, 1998, India detonated three nuclear bombs in the Indian Army's Pokhran Test Range.
Dr APJ Abdul Kalam lead the Indian team of scientists to successfully test-fire the Shakti-1 nuclear missile at Rajasthan's Pokhran test range.
Two days later, the country successfully tested two more nuclear weapons as a part of the same Pokhran-II/Operation Shakti initiative.
After these tests Prime Minister Atal Bihari Vajpayee declared India a nuclear state, making it the sixth country to join the 'nuclear club' of nations.
Hansa 3, India's first indigenous aircraft was first tested on the same day in 1998 in Bangalore.
Successful test firing of Trishul, a short range missile made in India, was also done on the same day.
On the occasion of National Technology day, TDB hosts scientific-technology based webinars and felicitate individuals for excellent works in the field of Science and Technology every year.
Established in 1996, TDB is a statutory body that works under the Department of Science and Technology, GOI.
It also provides financial assistance for concerns of Indian industries and other agencies for commercialization of indigenized technologies or adoption of imported technologies for wider domestic applications.