Baralacha La Pass : 76 tourists Rescued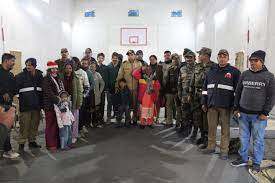 Border Roads Organisation (BRO) recently rescued 76 tourists including seven children stranded at Baralacha La Pass.
Baralacha La Pass is a high mountain pass located along the Leh-Manali highway that connects Leh district in Ladakh and Lahaul district in Himachal Pradesh.
It is situated in the Zanskar range.
It lies close to River Bhaga, which originates from the Surya Taal Lake & is a tributary of the River Chenab.
It is located at the height of 16,040 feet above the sea level and is one of the highest motorable passes in India.
It also finds mention in Rudyard Kipling's celebrated novel 'Kim', wherein the source of the Suraj Tal is used by the novel's character Lama to enter into India from Tibet.
Border Roads Organisation (BRO):
It is a road construction executive force in India that provides support to Indian Armed Forces.
It was formed on 7 May 1960 to secure India's borders and develop infrastructure in remote areas of the north and north-east states of the country.
The organisation motto is Shramena Sarvam Sadhyam (everything is achievable through hardwork).