Bathukamma Festival : Festival Of Flowers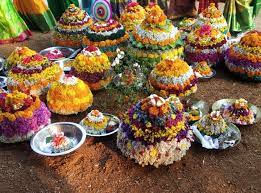 The nine-day-long annual festival of flowers Bathukamma began on a colorful note across Telangana.
It is a colorful floral festival celebrated by women with exotic local flowers.
The festival coincides with the monsoon, bringing water to ponds and wildflowers in vibrant colors.
Local flowers like 'gunuka,' 'tangedu,' 'banti,' and 'nandi-vardhanam' are abundantly used.
The festival begins a week before the 'Saddula Bathukamma' (the grand finale of the Bathukamma festival) which falls two days before Dussehra.
During the entire preceding week, women make 'boddemma' (a deity of Gowri – mother Durga – made with earthly mud) along with Batukamma and immerse it in the pond.
This helps reinforce the ponds and helps it retain more water.
The festival reinforces the bond between humans, the earth, and water, with rituals aimed at preserving natural resources.