BharatNet project : Cabinet Fund Approval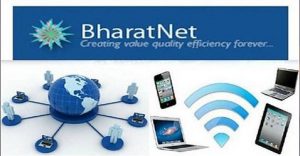 The Cabinet approved ₹1.39 lakh crore for the BharatNet project.
BharatNet project was launched in 2011.
Ministry: Ministry of Communications.
Implemented by: Bharat Broadband Network Ltd. (BBNL).
BharatNet project is a

Special Purpose Vehicle (SPV) set up by the Government of India under the Companies Act, 1956 with an authorized capital of Rs 1000 crore.

Initially, it was under the Ministry of Communications and Information Technology, which was bifurcated into the Ministry of Communications and the Ministry of Electronics and Information Technology in July 2016.
Currently, it is being implemented by the Department of Telecommunication under the Ministry of Communications.
BharatNet is one of the biggest rural telecom projects in the world.
Objective is to facilitate the delivery of e-governance, e-health, e-education, e-banking, Internet, and other services to rural India.
It seeks to provide connectivity to 2.5 lakh Gram Panchayats (GPs) through an optical fibre.
The entire project is being funded by the Universal Service Obligation Fund (USOF), which was set up for improving telecom services in rural and remote areas of the country.