BharatNet Project: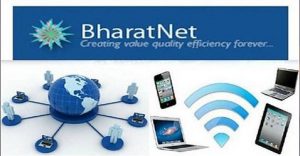 Tamil Nadu FibreNet Corp signs agreement for BharatNet project implementation.
The project aims at providing 1 Gbps bandwidth connectivity to all Gram Panchayats.
BharatNet Project was originally launched in 2011 as the National Optical Fibre Network(NOFN) and renamed as Bharat-Net in 2015.
It seeks to provide connectivity to 2.5 lakh Gram Panchayats (GPs) through optical fibre.
It is a flagship mission implemented by Bharat Broadband Network Ltd. (BBNL).
The objective is to facilitate the delivery of e-governance, e-health, e-education, e-banking, Internet and other services to rural India.
The larger vision of the project is:
To establish a highly scalable network infrastructure accessible on a non-discriminatory basis.
To provide on demand, affordable broadband connectivity of 2 Mbps to 20 Mbps for all households and on demand capacity to all institutions.
To realise the vision of Digital India, in partnership with States and the private sector.
The project is a Centre-State collaborative project, with the States contributing free Rights of Way for establishing the Optical Fibre Network.
The entire project is being funded by Universal service Obligation Fund (USOF), which was set up for improving telecom services in rural and remote areas of the country.