Bihar Caste Survey: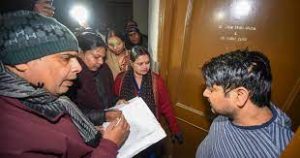 This comprehensive survey provides crucial data on the composition of various caste groups and their implications for politics, policies, and social dynamics.
Key Findings of the Bihar Caste Survey:
The Extremely Backward Classes (EBCs) constitute the largest social group, comprising 36.01% of Bihar's population, totaling 4,70,80,514 individuals.
Other Backward Classes (OBCs) make up 27.12% of the population, with a total of 3,54,63,936 members.
Scheduled Castes (SCs) account for 19.65%, numbering 2,56,89,820 individuals.
Scheduled Tribes (STs) form a minority, representing only 1.68%, with 21,99,361 members.
The "unreserved" category, often referred to as "forward" castes, comprises 15.52% of the population, totaling 2,02,91,679 individuals.
The overall population of Bihar, according to the survey, is 13,07,25,310, an increase from the 2011 census figure of 10.41 crore.