BlueWalker 3 Satellite: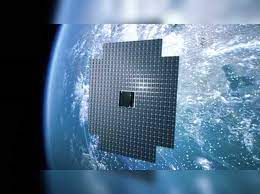 An international team of scientists have published a paper detailing the impact of the prototype BlueWalker 3 satellite on astronomy.
BlueWalker 3 satellite is a prototype satellite, part of a satellite constellation planned by its owner AST SpaceMobile.
It was one of the brightest objects in the night sky, outshining all the brightest stars.
It was launched in September 2022.
It is the largest-ever commercial communications array deployed in low-Earth orbit and is designed to communicate directly with cellular devices via 3GPP standard frequencies at 5G speeds.
It uses wavelengths close to those that radio telescopes observe in, the satellite could also hamper radio astronomy.
Satellite constellation:
It is a group of artificial satellites working together as a system.
Unlike a single satellite, a constellation can provide permanent global or near-global coverage, such that at any time everywhere on Earth at least one satellite is visible.