Chabahar Port : In News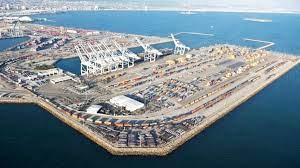 Prime Minister recently said the members of Shanghai Cooperation Organisation (SCO) can work towards maximizing the utilization of the Chabahar Port following Iran's membership of the world's largest regional organization.
Chabahar Port is a seaport in the Sistan-Balochistan province of Iran, on the Gulf of Oman, at the mouth of the Strait of Hormuz.
Chabahar is a deep-water port with direct access to the Indian Ocean that is outside the Hormuz Strait.
It is Iran's only seaport and consists of two separate ports called Shahid Beheshti and Shahid Kalantari.
It's geographic proximity to countries such as Afghanistan, Pakistan, and India, as well as its status as a key transit center on the burgeoning International North-South Transport Corridor, gives it the potential to develop into one of the most important commercial hubs in the region.
In May 2016, India signed a tripartite agreement with Iran and Afghanistan to develop the Shahid Beheshti Terminal at Chabahar.
It is India's first foreign port project.
The deal agreement aims to establish an International Transport and Transit Corridor in Chabahar.
The construction of the Chabahar Port and the construction of a rail line from Chabahar Port to Zahedan are the major highlights of this project.
The idea was that the port would enable India to bypass Pakistan and access Afghanistan, and ultimately Central Asia.
The port could serve as a hub for transit trade between India, Iran, and Afghanistan and provide an alternative route to the traditional Silk Road that passes through China.
International North-South Transport Corridor (INSTC):
INSTC is a multi-modal transportation route linking the Indian Ocean and the Persian Gulf to the Caspian Sea via Iran and onward to northern Europe via St. Petersburg in Russia.