Machilipatnam Port: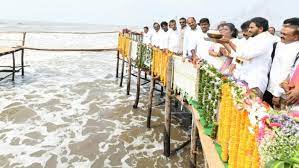 Andhra Pradesh Chief Minister will inaugurate the Machilipatnam port construction works at Manginapudi in Krishna district.
Machilipatnam Port is a proposed deep sea port on the coast of Bay of Bengal.
It is located at Machilipatnam, the District Headquarters of Krishna district in Andhra Pradesh.
The port is developed by the State Government under the landlord model at a cost of Rs 5,156 crore.
The project is being implemented by Machilipatnam Port Development Corporation Limited (MPDCL), a special purpose vehicle floated by the State government.
The port is expected to have a capacity of 35 million tonnes in phase one, with four berths, including three general berths and one for coal.
It would cater to exports of fertilizers, coal, cooking oil, containers, agricultural products, cement, granite, cement clinker, iron ore from Andhra Pradesh and neighbouring Telangana.
Landlord Port Model this model, the publicly governed port authority acts as a regulatory body and as landlord while private companies carry out port operations—mainly cargo-handling activities.