Coal Mining Project In Chhattisgarh : Protest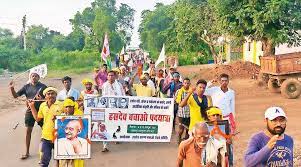 The Adani Enterprises Limited (AEL) coal mining project in Chhattisgarh has sparked a controversy due to its impact on the environment and local communities.
AEL has been mining coal in the Parsa East and Kente Basan coal blocks of Chhattisgarh's Surguja district for over a decade now.
For more than a year now, locals, largely from the Gond tribe, in Hariharpur, Ghatbarra, and Fattepur villages of Chhattisgarh, have been holding a sit-in at the entrance to Hariharpur against mining.
The mining project has adversely affected the lives of locals. As the mine has consumed forest land.
'Save Hasdeo Campaign' is also being run to save the forests of Hasdeo.
The mines have destroyed grazing land for cattle, affected the groundwater level, and the blasting has loosened the earth around borewells, and tube wells people had been using for minor farming.
The stream next to Hariharpur, once used to have water and fish throughout the year, has turned into a muddy stream since the digging has affected the catchment area.