OSIRIS-REx: NASA: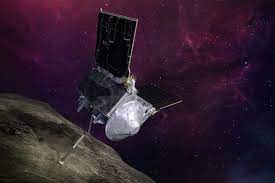 On May 11, NASA's Origins, Spectral Interpretation, Resource Identification, Security, Regolith Explorer (OSIRIS-REx) spacecraft will depart asteroid Bennu, and start its two-year long journey back to Earth.
Bennu is an asteroid located about 200 million miles away from the Earth.
Bennu is named after an Egyptian deity. The asteroid was discovered by a team from the NASA-funded Lincoln Near-Earth Asteroid Research team in 1999.
Bennu is a B-type asteroid, implying that it contains significant amounts of carbon and various other minerals.
Bennu is considered to be an ancient asteroid that has not gone through a lot of composition-altering change through billions of years, which means that below its surface lie chemicals and rocks from the birth of the solar system.
Therefore, scientists and researchers are interested in studying this asteroid as it might give them clues about the origins of the solar system, the sun, the Earth and the other planets.
OSIRIS-Rex:
OSIRIS-REx is NASA's first mission to visit a near-Earth asteroid, survey its surface and collect a sample from it.
The mission is essentially a seven-year-long voyage and will conclude when at least 60 grams of samples are delivered back to the Earth.
The mission promises to bring the largest amount of extra-terrestrial material back to our planet since the Apollo era.
The mission was launched in 2016, it reached its target in 2018 and since then, the spacecraft has been trying to match the velocity of the asteroid using small rocket thrusters.
It also utilized this time to survey the surface and identify potential sites to take samples.
The spacecraft contains five instruments meant to explore Bennu including cameras, a spectrometer and a laser altimeter.