Critical Minerals: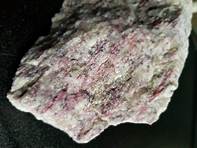 India and Australia decided to strengthen their partnership in the field of projects and supply chains for critical minerals.
Critical minerals are elements that are the building blocks of essential modern-day technologies, and are at risk of supply chain disruptions.
These minerals are now used everywhere from making mobile phones, computers to batteries, electric vehicles and green technologies like solar panels and wind turbines. Based on their individual needs and strategic considerations, different countries create their own lists.
However, such lists mostly include graphite, lithium and cobalt, which are used for making EV batteries; rare earths that are used for making magnets and silicon which is a key mineral for making computer chips and solar panels.
Aerospace, communications and defence industries also rely on several such minerals as they are used in manufacturing fighter jets, drones, radio sets and other critical equipment.
As countries around the world scale up their transition towards clean energy and digital economy, these critical resources are key to the ecosystem that fuels this change.