Dragon Fruit Cultivation: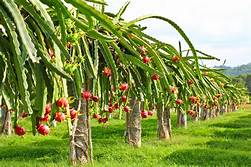 The Centre has decided to promote the cultivation of dragon fruit, known as a "super fruit" for its health benefits.
The Centre plans to come up with an annual action plan to motivate more State governments.
Mizoram tops among the States that cultivate this fruit
The export of fruit has made a huge contribution to Vietnam's GDP.
It can grow in semi-arid and arid regions and can tolerate a bit of salt. All the States in India except cold areas are suitable for dragon fruit plants.
Its flowering coincides with the monsoon season in India.
Its flowers are hermaphrodites (male and female organs in the same flower) in nature and open at night.
The dragon fruit (Hylocereus undatus) is indigenous to the Americas. It is a member of the cacti family.
It is also known as 'Pitaya', 'Pitahaya', strawberry pear, noblewoman and queen of the night throughout the world. In India, it is also known as 'Kamalam'.
The plant sustains yield for more than 20 years, is high in nutraceutical properties (having medicinal effects) and good for value-added processing industries.
It is a rich source of vitamins and minerals.