Eastern Swamp Deer: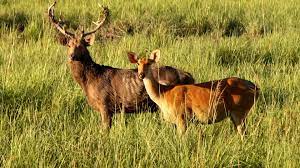 The population of the vulnerable eastern swamp deer, extinct elsewhere in South Asia, has dipped in the Kaziranga National Park and Tiger Reserve.
Officials attributed the decrease from 907 individuals in 2018 to 868 during the Eastern Swamp Deer Estimation on January 10 and 11 to two high floods in 2019 and 2020.
About swamp deer:
The barasingha, also called swamp deer, deer is endemic to Kaziranga.
The eastern swamp deer was once concentrated in the central Kohora and Bagori ranges of Kaziranga.
IUCN status:

State animal of Madhya Pradesh and Uttar Pradesh.
Range: central and northern India and southern Nepal.
India: Assam, Jumna River, Ganges River, Brahmaputra River, Madhya Pradesh, Utter Pradesh, and Arunachal Pradesh.