New Caledonia: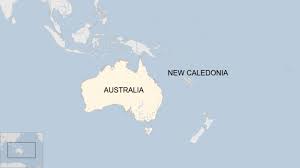 Voters in the French island territory of New Caledonia chose overwhelmingly to remain part of France, in a referendum boycotted by pro-independence forces and closely watched around the South Pacific.
New Caledonia is a sui generis collectivity of overseas France in the southwest Pacific Ocean, south of Vanuatu, about 1,210 km east of Australia, and 17,000 km from Metropolitan France.
The archipelago, part of the Melanesia subregion, includes the main island of Grande Terre, the Loyalty Islands, the Chesterfield Islands, the Belep archipelago, the Isle of Pines, and a few remote islets.
The Chesterfield Islands are in the Coral Sea.
French President Emmanuel Macron hailed the result as a resounding confirmation of France's role in the Indo-Pacific, and announced negotiations on the territory's future status. Separatist activists expressed disappointment.
They had urged a delay in the vote because of the pandemic, and were angry over what they said were French government efforts to sway the campaign.
So they called on their supporters to stay away from voting stations.