Eastern Economic Forum: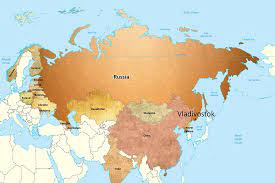 The Union Minister of Ports, Shipping & Waterways will attend the Eastern Economic Forum, which is being held at the Russian port city of Vladivostok.
Eastern Economic Forum was established in 2015 to support the economic development of Russia's Far East and to expand international cooperation in the Asia-Pacific region.
It is a key international platform for establishing and strengthening ties within the Russian and global investment communities.
For a comprehensive expert evaluation of the economic potential of the Russian Far East, the investment opportunities it offers, and business conditions within advanced special economic zones.
Russia Far East is the easternmost part of Russia.
The macro-region borders two oceans, the Pacific and the Arctic, and five countries (China, Japan, Mongolia, the United States and the DPRK).
The Far Eastern region spreads over four time zones and various climate zones, from northern deserts to subtropics.
It is rich in natural resources like diamonds, borax, etc.