Kali Bein: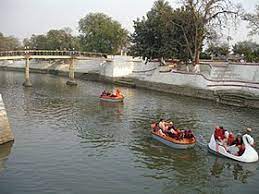 Punjab Chief Minister Bhagwant Mann has been admitted to Delhi's Apollo Hospital, days after he had drunk a glass of water directly from the Kali Bein, a holy rivulet in Sultanpur Lodhi.
Kali Bein, the 165-km rivulet starts from Hoshiarpur, runs across four districts and meets the confluence of the rivers Beas and Sutlej in Kapurthala.
Along its banks are around 80 villages and half a dozen small and big towns.
Waste water from there as well as industrial waste used to flow into the rivulet via a drain, turning its waters black, hence the name Kali Bein (black rivulet). Dense grass and weeds grew on the water until a cleaning project started.
The Kali Bein is of great significance to Sikh religion and history, because the first Guru, Nanak Dev, is said to have got enlightenment here.
When Guru Nanak Dev was staying at Sultanpur Lodhi with his sister Bebe Nanki, he would bathe in the Kali Bein.
He is said to have disappeared into the waters one day, before emerging on the third day. The first thing he recited was the "Mool Mantra" of the Sikh religion.