Eat Right Station Certificate To Varanasi Cantt Railway Station: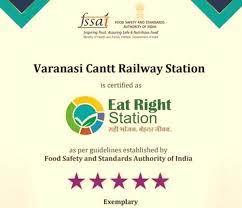 Indian Railways' Varanasi Cantt Railway Station has been awarded a 5- star 'Eat Right Station' certification for providing high-quality, nutritious food to passengers.
The 'Eat Right Station' certification is awarded by FSSAI to railway stations that set benchmarks in providing safe and wholesome food to passengers.
The apex food regulatory body comes under the Ministry of Health and Family Welfare
It has 240 parameters concerning food storage and hygiene, based on which the certification is accredited.
They are also rated on a scale of one to five–five being the highest level of compliance with the standards and regulations in place.
India has so far 34'Eat Right' certified stations, including Bhopal and Varanasi Cantt.