Sweet Revolution : Honey Mission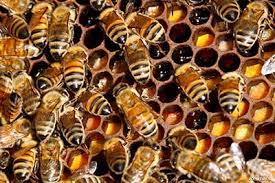 Under the Honey Mission, 1 lakh and 75 thousand bee boxes have been distributed so far by the Khadi and Village Industries Commission (KVIC) after providing beekeeping training to 17 thousand 500 beneficiaries across the country.
As per the National Horticulture Board (NHB), Uttar Pradesh, West Bengal, Punjab, Bihar, Rajasthan, Himachal Pradesh, Haryana, Uttarakhand, Madhya Pradesh and Karnataka were the top ten honey-producing states in 2021-22.
Honey Mission was launched in 2017 in line with the 'Sweet Revolution'.
Under the mission, the KVIC under Ministry of Micro, Small and Medium Enterprises provides the farmers or beekeepers –

Practical training about the examination of honeybee colonies,
Identification and management of bee enemies and diseases along with the management of bee colonies in all seasons.
Acquaintance with apicultural equipment's and
Honey extraction and wax purification.
Sweet Revolution:
It is an ambitious initiative of the Government of India for promoting apiculture, popularly known as 'beekeeping'.
To provide a booster shot to Sweet Revolution, the government launched the National Beekeeping and Honey Mission in 2020 (a central sector scheme under the Ministry of Agriculture and Farmers Welfare) as part of the AtmaNirbhar Bharat scheme.
It aims to accelerate the production of quality honey and other related products.
The demand for good quality honey has grown over the years as it is considered a naturally nutritious product.
Other apiculture products such as royal jelly, beeswax, pollens, etc., are also used extensively in different sectors like pharmaceuticals, food, beverage, beauty, and others.