My Octopus Teacher: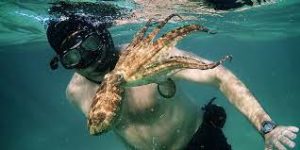 The 85-minute documentary feature, My Octopus Teacher, which won the best documentary award at the recently concluded Academy Awards, is about the relationship that developed between a human being and a wild octopus.
My Octopus Teacher is a 2020 Netflix Original documentary film directed by Pippa Ehrlich and James Reed, which documents a year spent by filmmaker Craig Foster forging a relationship with a wild common octopus in a South African kelp forest.
At the 93rd Academy Awards, it won the award for Best Documentary Feature.
Kelp forests are underwater areas with a high density of kelp, which covers a large part of the world's coastlines. They are recognized as one of the most productive and dynamic ecosystems on Earth.
Smaller areas of anchored kelp are called kelp beds. Kelp forests occur worldwide throughout temperate and polar coastal oceans.
Kelps are large brown algae seaweeds that make up the order Laminariales.