Bio Medical Wastes: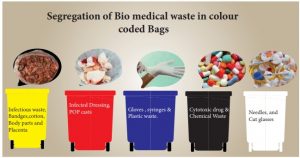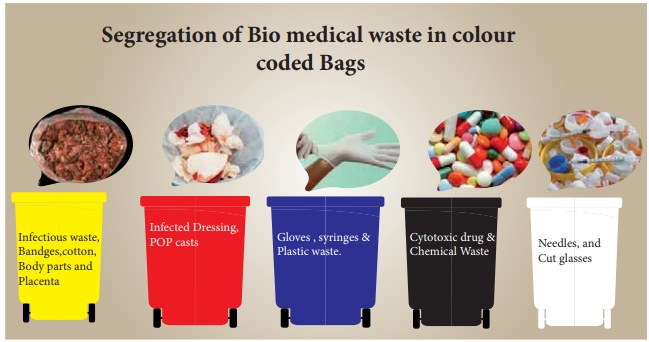 The National Green Tribunal (NGT) has recently directed various authorities to ensure compliance from the biomedical waste management facilities in the country.
Central Level: The Central Pollution Control Board (CPCB) to ensure strict compliance of biomedical waste management rules and scientific disposal of the waste.
State Level: The Chief Secretaries of all the States/UTs to oversee compliance and ensure that authorisation is secured by every health care facility in their respective jurisdiction and also there is adherence to the norms.
District Level: The District Magistrates in accordance with the District Environmental Plans.
Groundwater Contamination: While permitting deep burials, it may be ensured that groundwater contamination does not take place.
Segregation: Ensure that hazardous bio-medical waste is not mixed with the general waste.
Frequent Violation of Rules: The direction came as a result of regular fines being imposed on various healthcare facilities and biomedical waste treatment facilities
Earlier Observation: The segregation of Covid-­19 biomedical waste from general garbage is a must to avoid further contamination adversely affecting public health.
Bio-Medical Waste Management Rules, 2016
Biomedical waste is defined as human and animal anatomical waste, treatment apparatus like needles, syringes and other materials used in health care facilities in the process of treatment and research.
Objective: The objective of the rules is to properly manage the per day bio-medical waste from Healthcare Facilities (HCFs) across the country.
Ambit: The ambit of the rules has been expanded to include vaccination camps, blood donation camps, surgical camps or any other healthcare activity.
Phase Out: Chlorinated plastic bags, gloves and blood bags has been phased out within two years starting from March 2016.
Pre-treatment: Pre-treatment of the laboratory waste, microbiological waste, blood samples and blood bags through disinfection or sterilization on-site in the manner prescribed by the World Health Organization (WHO) or by the National AIDS Control Organisation (NACO).
Bio-medical waste has been classified into 4 categories instead of the earlier 10 categories to improve the segregation of waste at source.
Stringent Standards for Pollutants: The rules prescribe more stringent standards for incinerators to reduce the emission of pollutants in the environment.
The State Government provides the land for setting up common bio-medical waste treatment and disposal facility
Need Monthly Current Affairs PDF?
Get everything on your phone with our all in one app for your UPSC Preparation.
Get daily current affairs on you phone
Download monthly current affairs PDF
All India daily mock tests with ranking