Vibhav Anti-Tank Munition: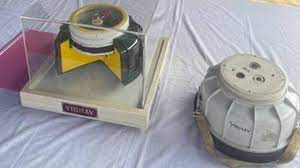 Six hundred indigenously manufactured self-neutralising anti-tank mines, known as "Vibhav", have been recently inducted into the Indian Army.
Vibhav Anti-Tank Munition is a self-neutralising anti-tank mine.
Designed and developed completely indigenously in a joint venture with the Defence Research and Development Organisation (DRDO) in India, "Vibhav" is a point-attack anti-tank munition.
It is designed to provide mobility kill against all enemy armoured vehicles.
The munition is under production by the Kalyani Group for the Indian Army.
The anti-tank mine is made of new-age plastic, which gives it adequate strength and durability to withstand the requirements of storage, handling and operating in varying field conditions.
The munition can be laid both mechanically or manually.
A host of safety and actuation mechanisms have been incorporated in "Vibhav" to make it safe to handle, lethal against targets and reliable.
The integrated explosive, mechanical and electronic safety features ensure utmost operator safety.
The munition also incorporates an electronic anti-handling and anti-lift device (EAHALD) that stays active for 120 days once armed.
It has mechanical timers. Due to this, after 120 days, it will be self-neutralised.
It has a storage life of 10 years with no special storage requirements.