Mudumalai Tiger Reserve : High Court Order To Relocate All Residents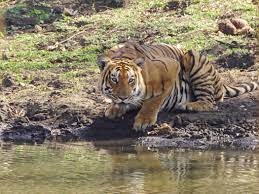 The Madras High Court recently directed the Central government to release funds to relocate all 495 residents of the Thengumarahada village in Tamil Nadu (TN), as the village falls within the protected area of the Mudumalai Tiger Reserve.
Mudumalai Tiger Reserve is located in the Nilgiris District of Tamil Nadu, spread over 321 sq. km. at the tri-junction of three states, viz, Karnataka, Kerala, and Tamil Nadu.
It lies on the Northeastern and Northwestern slopes of Nilgiri hills which is a part of the Western Ghats.
It is part of the Nilgiris Biosphere Reserve, the first Biosphere Reserve in India.
It has a common boundary with Wayanad Wildlife Sanctuary(Kerala) on the West, Bandipur Tiger Reserve (Karnataka) on the North, the Nilgiris North Division on the South and East, and Gudalur Forest Division on the South West.
The name Mudumalai means " the ancient hill range". Indeed, it is as old as 65 million years when the Western Ghats were formed.
The terrain is undulating, with the elevation ranging from 960m to 1266m.
A variety of habitats ranging from tropical evergreen forest, moist deciduous forest, moist teak forest, dry teak forest, secondary grasslands, and swamps are found here.
It has tall grasses, commonly referred to as "Elephant Grass", bamboo of the giant variety, and valuable timber species like Teak, Rosewood, etc.
It has wild relatives of cultivated plants, viz. wild rice, ginger, turmeric, cinnamon, etc.
Includes Tiger, Elephant, Indian Gaur, Panther, Sambar, Spotted Deer, Barking Deer, Mouse Deer, Common Langur, Malabar Giant Squirrel, Mangoose, Hyena, among others.
The recent Oscar-winning 'Elephant Whisperers' was filmed at the Theppakadu Elephant Camp, located inside the Mudumalai Tiger Reserve.