Export Preparedness Index (EPI) Report, 2022: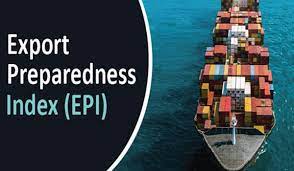 NITI Aayog is releasing the third edition of the Export Preparedness Index (EPI) for States/UTs of India for the year 2022
The report discusses India's export performance, followed by an overview of the country's sector-specific export performance.
The report further highlights the need to develop our districts as export hubs in the country and undertakes a district-level analysis of merchandise exports in the country.
EPI is a comprehensive tool that measures the export preparedness of the States and UTs in India.
Aim is to undertake a comprehensive analysis of States and UTs across export-related parameters in order to identify their strengths and weaknesses.
It evaluates state's and UTs' performance based on its adoption of the export-related policy ecosystem at a state and district level, as well as the institutional framework surrounding the ecosystem.
It assesses the prevailing business environment in a state/UT, along with the extent of business-supportive infrastructure and a state/UT's transport connectivity.
It Focuses on the export-related infrastructure in a state/UT, trade support provided to exporters, and the prevalence of Research and Development in the state/UT to foster innovation.