Factoring Regulation (Amendment) Bill, 2021: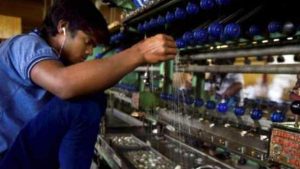 Rajya Sabha has passed the Factoring Regulation (Amendment) Bill, 2021 to bring changes in the legislation aimed at helping the Micro, Small and Medium Enterprises (MSME) sector.
It has incorporated many suggestions from the UK Sinha Committee.
Key Provisions of the Bill:
Change in the Definitions:

It amends the definitions of "receivables", "assignment", and "factoring business" to bring them at par with international definitions.

Relaxation to NBFCs' Factoring Threshold:

The bill seeks to amend the Factoring Regulation Act, 2011 to widen the scope of entities which can engage in factoring business.
The current law which gave the Reserve Bank of India authority to allow non-bank finance companies to remain in factoring business only if it was their principal business.
That is, more than half of assets were to be deployed and income earned from factoring business.
The Bill removes this threshold and opens up the opportunity in this business to more non-bank lenders at a time small businesses are facing financial stress.

TReDS to Register Charges:

The Bill states that where trade receivables are financed through Trade Receivables Discounting System (TReDS), the details regarding transactions should be filed with the Central Registry by the concerned TReDS, on behalf of the factor.
TReDS is an electronic platform for facilitating financing of trade receivables of MSMEs.
RBI to Regulate:
It empowers Reserve Bank of India (RBI) to make regulations for granting registration certificates to a factor, filing of transaction details with the Central Registry and all other matters.

No time-bound Registration:

It removes the 30-day time period for the factors to register the details of every transaction entered by them.
The registering authority for such transactions is the Central Registry setup under the Securitisation and Reconstruction of Financial Assets and Enforcement of Security Interest (SARFAESI) Act, 2002.