FAME India Scheme: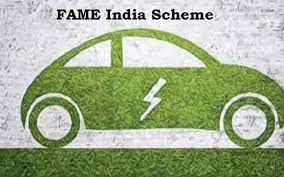 Under FAME-India Scheme, incentives are provided to buyers of electric vehicles in the form of an upfront reduction in the purchase price of electric vehicles.
As per the information received from Department of Revenue, at present the GST rate on electric vehicles is 5%.
The GST rates are prescribed based on the recommendations of the GST Council.
Electric vehicles are already at the lowest rate slab of 5%.
The Government on 12th May, 2021 approved a Production Linked Incentive (PLI) scheme for manufacturing of Advanced Chemistry Cell (ACC) in the country in order to bring down prices of battery in the country.
Drop in battery price will result in cost reduction of electric vehicles.
GST on electric vehicles has been reduced from 12% to 5%; GST on chargers/ charging stations for electric vehicles has been reduced from 18% to 5%.
Ministry of Road Transport & Highways (MoRTH) announced that battery-operated vehicles will be given green license plates and be exempted from permit requirements.
MoRTH issued a notification advising states to waive road tax on EVs, which in turn will help reduce the initial cost of EVs.
About FAME India scheme:
FAME-India Scheme is implementing by Department of Heavy Industry in order to promote manufacturing of electric and hybrid vehicle technology and to ensure sustainable growth of the same.
FAME India is a part of the National Electric Mobility Mission Plan.
Main thrust of FAME is to encourage electric vehicles by providing subsidies.
FAME-India Scheme proposes to give a push to electric vehicles (EVs) in public transport and seeks to encourage adoption of EVs by way of market creation and demand aggregation.
It is being implemented in two phases:

Phase-I [Faster Adoption and Manufacturing of (Hybrid) & Electric Vehicles in India] from 1st April 2015.
The Phase-II of the Faster Adoption and Manufacturing of (Hybrid) & Electric Vehicles.