Project NIPUN: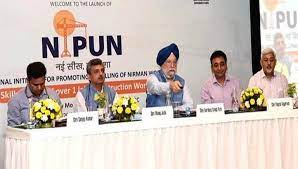 An innovative project for skill training of construction workers called 'NIPUN' i.e. National Initiative for Promoting Upskilling of Nirman Workers was launched.
NIPUN is creating a future labour force for the construction industry which will propel innovation and large-scale development in the country.
The construction sector is on track to become the largest employer by 2022, and it will require 45 million more qualified workers over the next ten years.
Project NIPUN:
The basic motive of the project is to train over 1 lakh construction workers, through fresh skilling and upskilling programmes.
The project NIPUN is an initiative of the Ministry of Housing & Urban Affairs (MoHUA).
This project is running under the flagship programme of the Deendayal Antyodaya Yojana-National Urban Livelihoods Mission (DAY-NULM)
The transformational impact of the National Urban Livelihoods Mission (NULM) has reduced the vulnerability of urban poor households by providing upskilling and employment opportunities to urban dwellers, especially the youth.
Implementing Agency:

National Skill Development Corporation (NSDC).
NSDC is the nodal agency and workers under the Ministry of Skill Development & Entrepreneurship (MSDE).
NSDC will be responsible for the overall execution of training, monitoring and candidate tracking.