FASTag :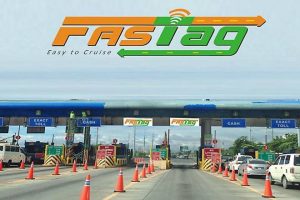 Union Road Transport and Highways Ministry has decided that all lanes in the fee plazas on National Highways shall be declared as 'FASTag lane of the fee plaza' from midnight of 15th/16th February 2021.
Any vehicle not fitted with FASTag will have to pay twice the fee for the category of the vehicle they are driving at electronic toll plazas across India.
The device employs Radio Frequency Identification (RFID) technology for payments directly from the prepaid or savings account linked to it.
It is affixed on the windscreen, so the vehicle can drive through plazas without stopping.
The payment method is a part of the National Electronic Toll Collection (NETC) programme.
The National Payments Corporation of India (NPCI) collects the payments.
According to the National Highways Authority of India (NHAI), these devices will make passing through tolls considerably smoother since drivers will no longer have to carry cash or stop to make a transaction.
Cameras at toll booths will take photos of passengers in a vehicle, which will be useful for the Ministry of Home Affairs as there will be a record of a vehicle's movement.