First Marine Spatial Planning (MSP) Framework : Puducherry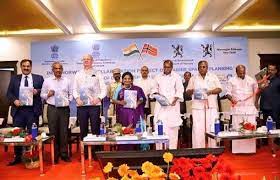 Puducherry has launched the country's first Marine Spatial Planning (MSP) framework as part of a pact under the Indo-Norway Integrated Ocean Initiative.
Puducherry and Lakshadweep were chosen as coastlines to pilot the MSP initiative after a 2019 Memorandum of understanding (MoU) between India and Norway.
Marine Spatial Planning is an ecosystem-based spatial planning process for analysing current and anticipated ocean and coastal uses and identifying areas most suitable for various activities.
It provides a public policy process for society to better determine how the ocean and coasts are sustainably used and protected now and for future generations.
Ministry of Earth Sciences oversees the implementation of the MSP through National Centre for Coastal Research (NCCR), the National Centre for Sustainable Coastal Management, the Puducherry Coastal Zone Management Authority and Department of Science, Technology and Environment, Puducherry in collaboration with Norwegian Environment Agency.
The two nations have agreed to provide continued assistance towards the sustainable use of ocean resources, with the aim of promoting economic and social development in coastal regions.
After successful implementation of pilot project in Lakshadweep and Puducherry, the framework can be replicated to other coastal regions of the country.