Fit India Freedom Runs 2.0: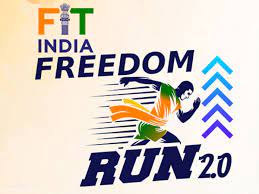 Union Minister of Youth Affairs & Sports will launch the Nationwide programme of Fit India Freedom Runs 2.0 as part of Azadi ka Amrit Mahotsav on 13th August 2021 from Major Dhyan Chand National Stadium, New Delhi.
Along with Delhi Fit India Freedom Runs 2.0, programme will be organised in 9 other iconic locations across the country.
Each week programmes will be held in 75 districts and at 75 villages in each district till 2nd October 2021.
Thus, Fit India Freedom Runs will be organized in 744 Districts, 75 villages in each of the 744 Districts and 30,000 Educational Institutions across the country.
The aim of the campaign is to encourage people to take up fitness activities such as running and sports in their daily lives and get freedom from obesity, laziness, stress, anxiety, diseases etc.
Through this campaign, citizens will be given call to make a resolve to include physical activity of at least 30 minutes daily in their lives "FITNESS KI DOSE AADHA GHANTA ROZ".
The key activities of Fit India Freedom Run 2.0 include pledge, rendering of National Anthem, Freedom Run, cultural functions at venues, awareness among Youth Volunteers to participate and also organize similar Freedom Runs in their villages.
'Fit India Freedom Run' was conceived last year in the wake of COVID-19 Pandemic when social distancing became 'new normal lifestyle, so as to keep the imperative need of fitness active even while following the social distancing norms.
The first edition of the campaign was organized from 15th August to 2nd October, 2020.