Fourth Meeting Of National Level Steering Committee (NLSC) Of Atal Bhujal Yojana: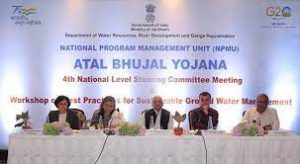 The fourth meeting of the National Level Steering Committee (NLSC) of the Atal Bhujal Yojana was held in New Delhi.
Overall performance of the scheme is satisfactory and the achievements under Disbursement Linked Indicators are also noteworthy.
The Committee decides Atal Bhujal Yojana should be taken up for continuation for another two years beyond 2025.
Atal Bhujal Yojana (ATAL JAL) is being implemented as a Central Sector Scheme since April, 2020 in 8220 water stressed Gram Panchayats of 229 administrative blocks/Talukas in 80 districts of seven States Gujarat, Haryana, Karnataka, Madhya Pradesh, Maharashtra, Rajasthan and Uttar Pradesh.
Implementation Period is for 5 years (2020-21 to 2024-25).
Goal is to demonstrate community-led sustainable ground water management which can be taken to scale.
The major objective of the Scheme is to improve the management of groundwater resources in select water stressed areas in identified states.
Total outlay of INR 6000 crores. Out of this, INR 3,000 crores will be as loan from the World Bank and INR 3,000 crores as matching contribution from the Government of India.