Freshwater Shortage Report: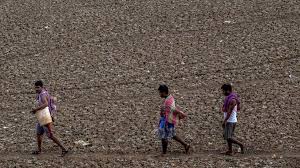 A global study released by Circle of Blue and World Wide Fund for Nature (WWF) analysed attitudes towards freshwater shortages by surveying almost 30,000 people from 31 countries.
People in Argentina, South Korea, Vietnam, Colombia, Germany and Peru reported the largest increases in concerns about water shortages over the past few years.
30% of people claim to be greatly impacted by freshwater shortages.
Strong concerns about freshwater shortages have increased from 49% in 2014 to 61% in 2022, among 17 countries consistently tracked.
People in urban areas (32%) are more likely to be greatly affected by a lack of freshwater than those in rural (28%) or towns and suburban areas (26%).
38% of people said they have been "greatly" personally affected by climate change.
People who claimed to be personally affected by climate change viewed drought as the most concerning impact of it.
India's freshwater crisis is constant. Although India has 16% of the world's population, the country possesses only 4% of the world's freshwater resources.
According to NITI Aayog, a large number of Indians face high to extreme water stress.
North India, the most populated belt of the nation is going to face grievous irreversible fresh water scarcity by 2060 since the availability of the vital resource will decline on account of climate change.