G4 Countries: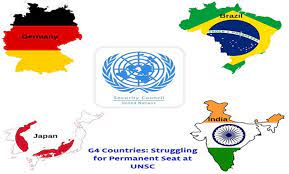 The G4 countries have reiterated that expansion of UN Security Council in both permanent and non-permanent categories is essential to make the body more representative, legitimate, effective and efficient.
The G4 is a grouping of Brazil, Germany, India and Japan which are aspiring to become permanent members of the UNSC.
They are supporting each other's bids for permanent membership of the UNSC.
The G4 nations traditionally meet on the sidelines of the annual high-level UN General Assembly session.
The Uniting for Consensus (UfC), or the Coffee Club, emerged in the 1990s in opposition to the potential extension of permanent seats on the UN Security Council.
Italy along with Pakistan, Mexico and Egypt founded the Coffee Club in 1995 to reject the proposal to increase the number of permanent seats in the UNSC.
UN Security Council:
EST: United Nations charter in 1945
HQ: New York City, USA.
Members: 15 members
Permanent members with veto power (P5 members): the United States, the Russian Federation, France, China and the United Kingdom.
Non-permanent members: The non-permanent members of the Security Council are elected for a term of two years.