Senkaku Islands In Japan: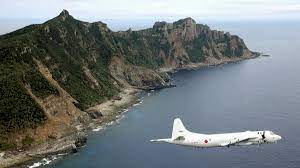 New Japanese Prime Minister Fumio Kishida has said that he received a "strong" message from President Joe Biden about the United States' commitment to defending the disputed East China Sea islets, known as the Senkaku Islands in Japan.
As per the U.S.-Japan security treaty, the U.S. has obligations to defend Japan, which cover the uninhabited island.
The Senkaku Islands are located in the East China Sea between Japan, the People's Republic of China, and the Republic of China (Taiwan).
The archipelago contains five uninhabited islands and three barren rocks, ranging in size from 800 m2 to 4.32 km2.
The Senkaku Islands were not included in the territory which Japan renounced under Article 2 of the San Francisco Peace Treaty of 1951 that legally defined the territory of Japan after World War II.
Under Article 3 of the treaty, the islands were placed under the administration of the United States as part of the Nansei Shoto Islands.
The Senkaku Islands are included in the areas whose administrative rights were reverted to Japan in accordance with the Agreement between Japan and the United States of America Concerning the Ryukyu Islands and the Daito Islands that entered into force in 1972.
China says that the islands have been part of its territory since ancient times, serving as important fishing grounds administered by the province of Taiwan.
Taiwan was ceded to Japan in the Treaty of Shimonoseki in 1895, after the Sino-Japanese war.
When Taiwan was returned in the Treaty of San Francisco, China says the islands should have been returned too.
The Senkaku/Diaoyu issue highlights the more robust attitude China has been taking to its territorial claims in both the East China Sea, the South China Sea and also on the Indian side.