What Is National Supercomputing Mission (NSM)?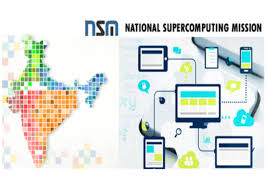 Under the National Super-Computer Mission (NSM), four new Supercomputers have been installed since July 2021 at IIT-Hyderabad, NABI- Mohali, CDAC-Bengaluru and IIT Kanpur.
NSM provides access to High-Performance Computing (HPC) facilities to around 75 institutions and more than thousands of active researchers, academicians working through Nation Knowledge Network (NKN).
National Supercomputing Mission (NSM) is being implemented and steered jointly by the Department of Science and Technology (DST) and Department of Electronics and Information Technology (DeitY).
Implemented by the Centre for Development of Advanced Computing (C-DAC), Pune and the Indian Institute of Science (IISc), Bengaluru.
The Mission envisages empowering national academic and R&D institutions spread over the country by installing a vast supercomputing grid comprising of more than 70 high-performance computing facilities.
These supercomputers will also be networked on the National Supercomputing grid over the National Knowledge Network (NKN).
The NKN is another programme of the government which connects academic institutions and R&D labs over a high speed network.
The Mission includes development of highly professional High Performance Computing (HPC) aware human resource for meeting challenges of development of these applications.