Geomagnetic Storm: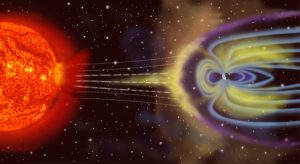 The earth is likely to hit by a geomagnetic storm according to the Space Weather Prediction Center (SWPC) of the National Oceanic and Atmospheric Administration (NOAA).
Geomagnetic storms are caused when events such as solar flares can send higher than normal levels of radiation towards Earth.
This radiation interacts with the Earth's magnetic field causing a geomagnetic storm.
The disturbance that drives the magnetic storm may be a solar coronal mass ejection (CME) or (much less severely) a co-rotating interaction region (CIR), a high-speed stream of solar wind originating from a coronal hole.
Effects from the geomagnetic storm can range from the appearance of auroras or the northern and southern lights to disruptions in communications systems due to high radiation. This would make it difficult to communicate with others on Earth.
Geomagnetic storms are classified according to a scale that measures the effect that storms will have.
At its safest level, a G1 storm affects power grids by causing weak fluctuations, minor impacts on satellite operations, and causes the northern and southern lights to occur.
At its most extreme, G5, there would be voltage control problems with some grid system collapses or blackouts, radio waves wouldn't be able to travel for one to two days, low-frequency radio would be out for hours, and the auroras would be able to be seen at lower latitudes than usual.