MGNREGA : Revised Wage Rate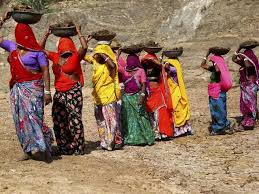 The Ministry of Rural Development has notified fresh wage rates under Mahatma Gandhi National Rural Employment Guarantee Act (MGNREGA) for financial year 2022-23.
The wage rates are notified under the Mahatma Gandhi National Rural Employment Guarantee Act, 2005.
The MGNREGA wage rates are fixed according to changes in the CPI-AL (Consumer Price Index-Agriculture Labour), which reflects the increase in the inflation in rural areas.
21 out of 34 states and Union Territories getting less than 5 % increase and 10 states getting more than 5 % hike.
Of the 31 states and UTs, which saw a hike in wages, the maximum 7.14 % has been recorded in Goa.
The lowest increase of 1.77 % is in Meghalaya.
There is no change in the wage rates of three states – Manipur, Mizoram and Tripura.
MGNREGA:
MGNREGA is one of the largest work guarantee programmes in the world.
The primary objective of the scheme is to guarantee 100 days of employment in every financial year to adult members of any rural household willing to do public work-related unskilled manual work.