Guru Nanak Dev Jayanti: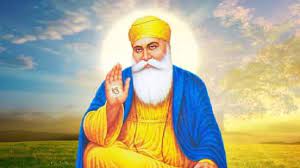 The 553rd birth anniversary of Guru Nanak Dev was celebrated.
Birth in 1459 at Talwandi Rai Bhoe village near Lahore, which was later renamed as Nankana Sahib.
He was the first of the 10 Sikh gurus and the founder of Sikhism.
Contributions:

Initiated inter-faith dialogue way back in the 16th century and had conversations with most of the religious denominations of his times.
Wrote compositions which were included in the Adi Granth, compiled by Guru Arjan (1563-1606), the fifth Sikh guru.
This came to be known as Guru Granth Sahib after the additions made by the 10th Sikh guru – Guru Gobind Singh (1666-1708).
Advocated the 'Nirguna' (devotion to and worship of formless divine) form of bhakti.
Rejected sacrifices, ritual baths, image worship, austerities.
Set up rules for congregational worship (Sangat) involving collective recitation.
Gave the basic mantra of 'Ek Onkar' to his followers and insisted on treating all human beings equally, without discriminating on the basis of caste, creed and gender.

Death: In 1539 at Kartarpur, Punjab.