India's First Indigenous Quadruped Robot And Exoskeleton: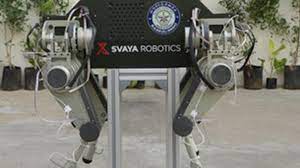 Hyderabad-based Svaya Robotics has developed India's first indigenous quadruped (four-legged) robot and exoskeleton for the defense sector as part of the Atmanirbhar Bharat initiative.
The indigenous robots and wearable exoskeletons were developed by Hyderabad-based Svaya Robotics in collaboration with the DRDO Labs, Research and Development Establishment (R&DE), Pune, and the Defence Bioengineering and Electromedical Laboratory (DEBEL), Bengaluru, as technology demonstrators with their design inputs.
Both are dual-use robots and have multiple use cases in both Industry and healthcare.
Quadruped robots are four-legged robots that can walk or run on uneven and rough terrains.
The robots can carry 25 kg in payload and walk along with the soldier.
It is made for navigating in unstructured terrains to provide remote reconnaissance and inspection, which otherwise are not safe for humans to operate in.
Exoskeleton is developed to suit Indian soldiers' anthropometry and augment soldier strength for walking long distances.
These active exoskeletons, when worn by soldiers, can carry heavy loads without expending much effort.