3rd International Convention On Sustainable Trade And Standards (ICSTS):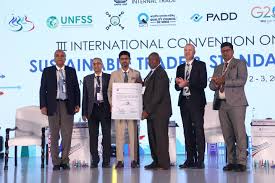 The Quality Council of India (QCI), an autonomous organization of the Department for Promotion of Industry and Internal Trade (DPIIT), Ministry of Commerce and Industry hosted the 3rd International Convention on Sustainable Trade and Standards (ICSTS) in New Delhi.
ICSTS, a two-day event, has been organized by the India National Platform on Private Sustainability Standards (India PSS Platform) and hosted by QCI in collaboration with the United Nations Forum on Sustainability Standards (UNFSS).
The ICSTS aims to raise awareness and foster dialogue on the challenges and opportunities of voluntary sustainability standards (VSS), which are tools to improve the environmental and social aspects of global value chains.
Key Highlights of ICSTS:
QCI and the African Organisation for Standardisation (ARSO) signed a bilateral agreement to strengthen trade relations and harmonize standards, promoting global trade landscape.
India has forged partnerships with Brazil and Mexico and has now extended cooperation with the ARSO regarding Voluntary Sustainability Standards.
Sustainability Standards are special rules that guarantee the products you buy do not hurt the environment and the people who make them.
The Open Network for Digital Commerce (ONDC) initiative was highlighted as it is driving the digitalization initiative, revolutionizing e-commerce in India and making trade more accessible and efficient in the digital age.
This initiative aligns with international standards, ensuring data confidentiality and trustworthiness.
ONDC identified QCI to assess the digital Readiness of entities to smoothly join the ONDC Network's Seller App.
At ICSTS, India Good Agricultural Practices standards were compared to GLOBAL Good Agricultural Practices standards through the National Technical Working Group (NTWG) mechanism and creation of National Interpretation Guidelines (NIG) also took place at the ICSTS.
This helps align Indian agricultural practices with global standards. The creation of NIG provides guidelines for applying these standards in India.
These efforts will benefit around 12,000 farmers by ensuring they meet international quality and sustainability standards.