Hindustan-228: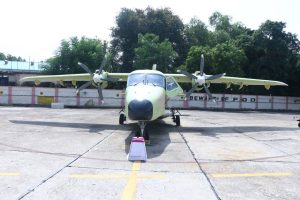 On August 15, the public sector aircraft manufacturing company Hindustan Aeronautics Limited (HAL) carried out a successful ground run and low speed taxi trials of a commercial aircraft – Hindustan-228 – for 'Type Certification' by the Directorate General of Civil Aviation (DGCA).
The type certification by the DGCA will enable HAL to get an international certification for the aircraft.
The 19-seater Hindustan-228 or the Do-228 is the first major attempt in India to develop a small civil transport aircraft after the 14-seater Saras aircraft development program at the National Aeronautics Laboratory was shelved in 2009 on account of multiple problems in its development.
The Hindustan-228 aircraft is built on the existing frame of the German Dornier 228 defence transport aircraft used by the defence forces.
Despite producing aircrafts like the Hindustan Trainer-2 and its variant – the Hindustan Propulsion Trainer 32 (HPT-32) – for the Indian Air Force six decades ago, and more recently the Light Combat Aircraft (LCA) for the IAF, the Indian aviation sector has not produced any civil transport aircraft.
Small civilian aircrafts are considered to be an essential element of the UDAN (Ude Desh ka Aam Naagrik) scheme that the central government is attempting to put in place for regional connectivity.