Hurricane Hilary: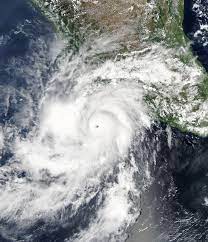 Hurricane Hilary is a major Category 4 hurricane that formed in the eastern Pacific Ocean on 16th August 2023.
Hurricanes are categorized on the Saffir-Simpson Hurricane Wind Scale, which rates them on a scale of 1 to 5 based on wind speed.
Hurricanes that reach category three or higher are classified as major hurricanes.
It is the first tropical storm to hit Southern California since 1939.
Hurricane Hilary is heading towards California because of a combination of factors, such as a high-pressure system over the western U.S., a low-pressure system over the eastern Pacific, and an El Niño event that warms the ocean water near the equator.
These factors create a favorable environment for tropical cyclones to form and move northward along the coast of Mexico and Central America.
However, most of these storms weaken or turn westward before reaching California, because of the cold water, cold currents, and unfavorable winds along the U.S. West Coast.
Hilary is an exception because it has maintained its strength and followed a more northerly track than usual.