Malcha Mahal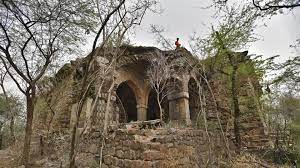 The Delhi government is about to renovate the 14th century monument Malcha Mahal.
It was built in 1325 by the then Sultan Firoz Shah Tughlaq and was, for a long time, used as a hunting lodge.
It later became the residence of the descendants of the Nawab of Awadh.
It is said that it came to be known as 'Wilayat Mahal' after Begum Wilayat Mahal of Awadh, who claimed that she was a member of the royal family of Oudh.
She was given the palace by the government in 1985.
When she died by suicide in 1993, it came into the ownership of her daughter Sakina Mahal, and son Prince Ali Raza (Cyrus), who died in 2017, his sister passed away some years before that.